Attempt #1: Slightly overexposed. Toddler is enamored with Mama.
Attempt #2: Overexposed and blurry. Toddler is enamored with Daddy.
Attempt #3: Let's just pretend this one didn't happen.
Attempt #7: Daddy snaps fingers in attempt to get toddler to look ahead, resulting in blur. Preschooler is enamored with television.
Attempt #10: I want YOU to have a merry Christmas.
Attempt #15: Toddler successfully looks at camera, but preschooler...does not. Finally realize you forgot to clear off the mantel.
Just choose one, crop, and go for it!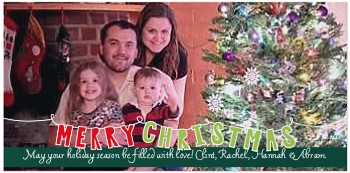 Christmas On String Christmas